The McCarthy Nordburg team recently donated time to the interior design of the Halle Healing Center, the nation's only healthcare clinic for victims of sex trafficking. This clinic is a part of the Phoenix Dream Center's Where Hope Lives program which works to rescue women and girls who were subjected to sex trafficking. The Dream Center provides housing, education and health services free of charge to help these women rebuild their lives.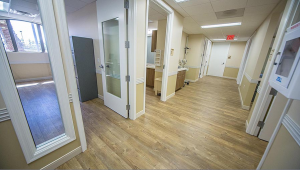 This clinic is the first to be housed directly in a center for survivors of sex trafficking. Prior to the clinic's opening, Phoenix Children's Hospital was providing mobile clinic services. The Halle Healing Center is warm and welcoming and outfitted with world-class healthcare equipment. The clinic can house 40 women at a time. Each is given her own Dream Room, a spacious bedroom designed by some of the top interior designers in the Phoenix area. There, they can rebuild their lives in safety and comfort while receiving the assistance and medical care essential for their recovery. The McCarthy Nordburg team was involved in specifying all of the finish materials in these patient rooms as well as the clinic's lobby.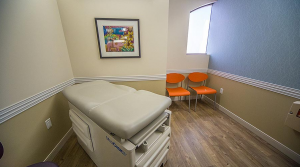 Our team is extremely gratified and honored to have had the opportunity to donate our time to such an important cause. The clinic was also made possible through the contributions of Dignity Health, Phoenix Children's Hospital, the Diane and Bruce Halle Foundation, and Jokake Construction.